Walk-through Metal Detector
Quick Details
●Place of Origin: Guangdong, China (Mainland)
●Brand Name: Defense Plus
●Model Number: DPW-IIID
●Usage: Door
●Warranty: one year free for spare parts
●Electric current: AC215V~230V 50/60Hz
●Power: 35W
●OEM: yes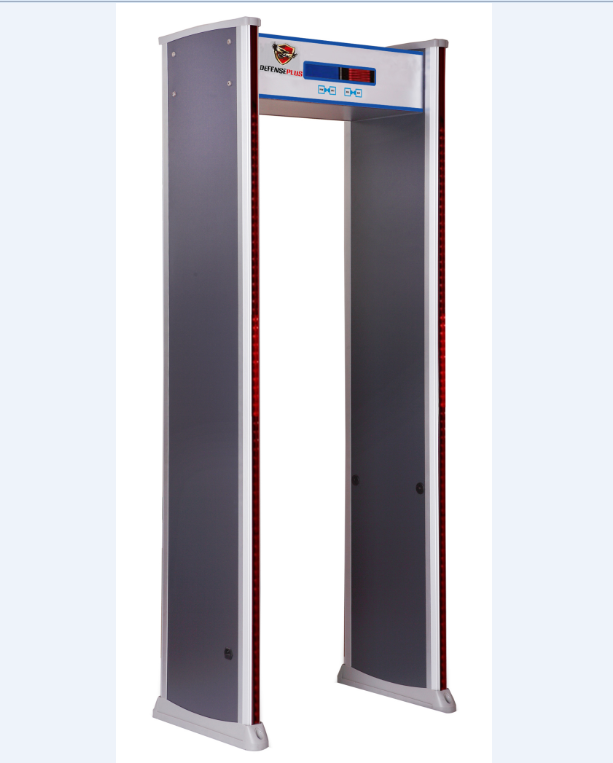 ●Work environment: -20°C~+45°C
●Gross Weight: 95kg
●Outer frame: 2220mm (h) x 820mm (w) X 610mm (d)
●Inner frame: 2000mm (h) X 700mm (w) X 610mm (d)
●zone: 6 zones
Packaging & Delivery
Packaging Details:
Wooden Packing
Delivery Detail:
7 days
2015 super hot sales Walk-through Metal Detector
Model No.: DPW-IIID
1. Easy to Install, Simple to Operate
2. Suite for Airports, Banks, Embassies, Jai house, Entertainment
environments, Gymnasiums, Exhibition Centers etc.
Technical specification
1. Electric current: AC215V~230V 50/60Hz
2. Power: 35W
3. Work environment: -20°C~+45°C
4. Gross Weight: 95kg
5. Outer frame: 2220mm (h) x 820mm (w) X 610mm (d)
6. Inner frame: 2000mm (h) X 700mm (w) X 610mm (d)
Function: Walkthrough Metal Detector can easily detect weapons, such as knife and gun, and any metal article which is hidden in human body.
Characteristic:
1. 6 Pinpoint zones to precisely identify multiple target locations from head to toe.
2. Advanced broadband detection technology: can detect ferrous and
non-ferrous articles.
3. Sensitivity adjustable from Level 0 to 199 (200 levels)
High: Can detect a pin
Low: Detect big metal articles such as: knife, gun, and copper, aluminums,
zinc (more than 150g), ignoring metal in belt button, shoes.
4. Shock proof to avoid false alarm
5. Sound and light alarm
6. Intelligent traffic and alarm counters that calculate traffic flow and resultant alarms.
7. Four LED light bars on both door panels: gives alarm corresponding to the height or human body.
8. Tamper-Proof: operate program is protected by password.
9. Adjustable operating frequencies---eliminate the potential effects from X-ray units, radios and other electrical interference sources
10. Mix distance between two Walk-thru: 0.3 meters at low sensitivity, 0.5 meters at high sensitivity
11. Harmless to pregnant woman and heart pacemaker.
12. With Remote controller
13. LCD screen show operate steps in English and Chinese
14. Superior Versatility: Settings designed for airports, courthouse, Sports meeting, Casino, Electronics factory and Hardware factory.
15. Networking: Remote ability with Desktop Remote Control ( Optional )
Standards:
1. In accordance with: EN60950, WN50081-1, EN50082-1
2. CE Certificate; ISO 9001:2000 Certificate / National standard